This school year Primary school "Djura Jaksic" Oreskovica, Serbia included in Online week for the 2nd time. We planned many activities for teachers, students and their parents.

Internet Safety - lecture for parents and workshop for students
In cooperation with police station, during the Online week, the inspector of Police station from Petrovac lectured about Internet safety for students and their parents. He spoke about Facebook and dangers on this social network. Also, he spoke about protection measures and how to recognize a child who are the victim of Internet violence. 
This wasn't only activity about Internet safety. For 5th and 6th grade students teacher organized workshop about this subject. Students spoke about their experience with social networks and learned how to use Internet safely. 
Moodle Cloud for teachers
One of activity was presentation about Moodle Cloude (Learning Management System) for teachers. Thanks to this presentation, teacher found how to use this platform in their teaching. Also, they found which activities and materials could include in their future courses for students and how to realize online teaching. 
Professional orientation via Skype 

Professional orientation program also took a part in Online week. 7th and 8th grade students used Skype to connect with students from secondaries school from Petrovac and Pozarevac. The students from these schools presented their schools to our students and helped them in the choice of future school. 
3rd grade students - part 1: Creators and teachers in many activities
During The Online Week 2016, 3rd grade students created many activities for younger kids. First, they created puzzle about fairy tale for kindergarten kids. They draw fairy tale, saved their drawings as a pictures (by using mobile phone) and, after that, they used Jigsaw Planet tool to create puzzle. Kids from kindergarten had the task to solve the puzzle and to recognize the fairy tale. On this way, they practiced to use computer mouse and, at the same time, they developed their motor skills. Also, they developed their ability to create the whole picture, by using the parts.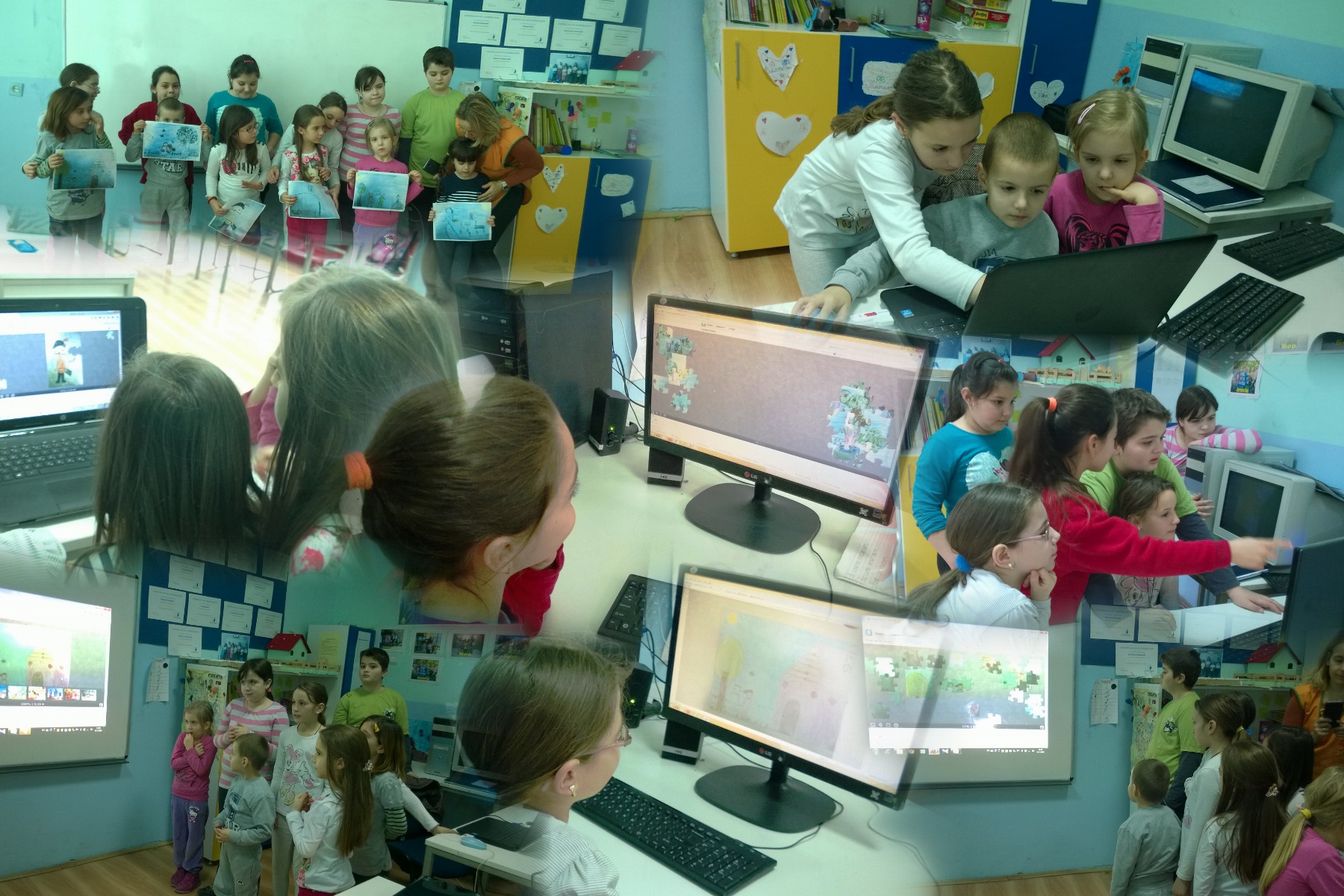 3rd grade students created and comics - mathematics tasks for 1st grade students. They used Toon Doo tool for this. 1st grade students had the opportunity to learn mathematics in more interesting way and to found how ICT could use for learning.  
The most interesting activity was the visit to students with special educational needs from other school. 3rd grade students prepared presentation about application for mobile phone which could help that students to learn teaching contents from math, science, music and art. 3rd grade students presented to them several application (Cool Math Duel, Kids Play & Learn, Paint Sparkles, Fotor, Match Animals for Kids) and, after that, they together participated in these educational games. This really was a great experience for all of us. 
3rd grade students - part 2: Creators and artists
The Online Week 2016 was the great opportunity for 3rd grade students to develop their ICT skills, but also to show their creativity. Through one of the planned activities, students wrote a songs and created illustrations for those songs. After that, they sang by using SongSmith and connected all songs in one "unique form" by using Movie Maker.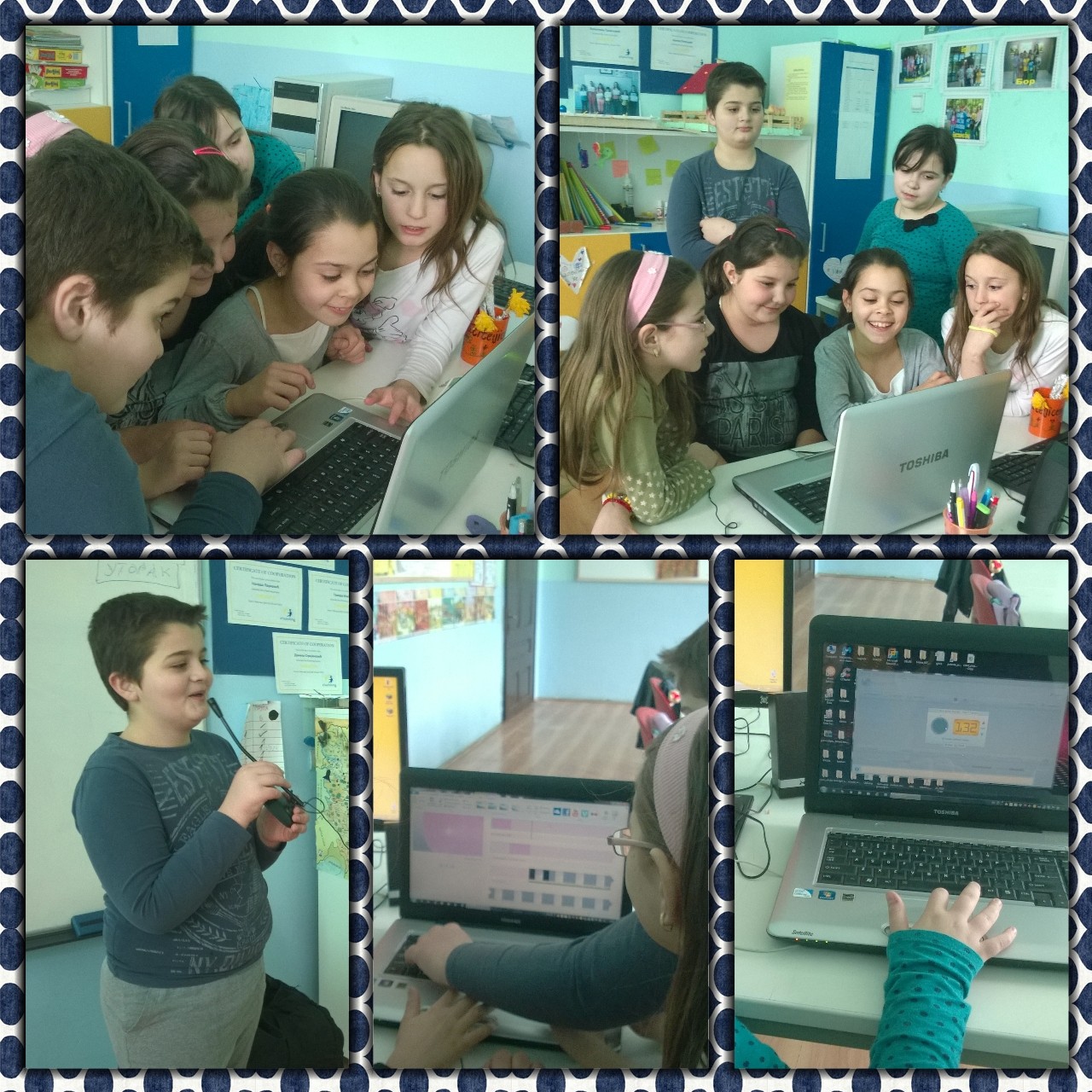 For the 1st time, 3rd grade students created the short animations by using Stop Motion Studio (application for mobile phone). They really enjoyed in this activity and they liked their animations very much. As the same as the previous activity, they used Movie Maker to put all animations in one "movie". This "movie" you could watch here. 
The most interesting links and cooperation with grandmothers 
Several activities organized for students in classes in Dobrnje and Vosanovac. Students from 1st to 4th grade in these classes presented to each other the most interesting links (URL addresses of educational games and quizzes). Also, they showed to their grandmothers how to find something on Internet and how to use Skype for communication.  
School classes by using ICT and online preparation for final exam
In our school, teachers planned many online activities for their classes. 1st grade students learned about mathematical content by using online educational game Color Addition. 5th grade students used Kahoot quiz to check their knowledge about biological content. And 6th grade students on history class created time line about Serbian royal dynasty, by using When in Time tool.  
During the Online week, 8th grade students prepared for final exam in Serbian language by using online portal http://www.mala-matura.com/. They had opportunity to listen and to watch audio and video lessons, to practice and to solve the different tests. 
The Online Week 2016 was very interesting and useful for me, my students and their parents and my colleagues. If you are interested, you could see our activity here (in Serbian language). We looking forward next year.:)