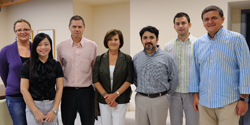 Representatives of Telecentre.org Foundation, Telecentre-Europe AISBL and the Community of Telecentre Networks Association are meeting today in Granada to prepare the fourth edition of the Global Telecentre Forum that will take place in Spring 2013 at the Granada Congress & Exhibition Centre.
The Global Telecentre Forum is a bi-annual event that aims to provide a platform for sharing knowledge among the global telecentre stakeholders and the various actors and organizations working towards the achievement of social development goals through the use of information and communication technologies (ICTs).
It's a three-day conference that provides technology leaders, telecentre and ICT4D advocates and practitioners from around the world with the opportunity to discuss issues surrounding the main theme and to explore new and better ways to harness telecentres as agents for social innovation and development.
History
The Global Telecentre Forumwas initially developed to bring together the leaders of the global telecentre movement to exchange experiences and practices.
At first it was a closed event that was gradually extended to include other public and private stakeholders from the ICT sector. It was hosted under other global or regional ICT events, and most recently has been organized as an independent event, that averaged 350 to 600 participants. 
The Global Telecentre Forum was first held during the World Summit on the Information Society (WSIS) in Tunisia (Africa) in 2005, which also marked the launch of the telecentre.org program. In succeeding years, it was successfully hosted in Kuala Lumpur, Malaysia (Asia) in 2007, and in Santiago, Chile (Latin America) in 2011.
» Read more: 4th Global Forum to be held in Granada in 2013, preparations underway